We will honor any authorized North and South Carolina Mercedes-Benz retailer's valid service offer or coupon

AND we will provide a complimentary service loaner, no matter where you purchased your vehicle.

Must present competitor's coupon upon arrival.

Cannot be combined with any other offer.

Service loaner provided with service appointment

Excludes state and local taxes, sublet services, wholesale and fleet purchases, insurance deductibles, tires and recycling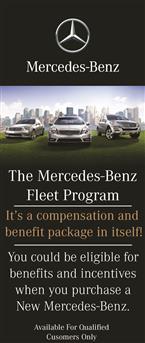 Provided by Humane Society of Charlotte

Are you looking for someone to share your love for squeaky toys? Meet Jackson he is an American Pit Bull Terrier and a sweet and loving young man at the Humane Society of Charlotte. Jackson does well with other dogs and enjoys playtime with his canine friends. However, he does not do well with cats and would be best in a feline free home. Jackson knows sit and is working on impulse control and loose leash walking! Come visit Jackson at Humane Society of Charlotte today!
The Best of the Best Weekly News!
Welcome to The Best of the Best Weekly News brought to you by Felix Sabates' Mercedes-Benz of South Charlotte.Our Newspaper brings you the top daily news articles from around the county and in Charlotte related to Business, Leisure, Education, Technology and Sports. You will also find articles, blog posts, videos and photos about Mercedes-Benz of South Charlotte, Mercedes-Benz, Sprinter, and smart.


Drive Home in a New Vehicle Today with Little or NO Money Down!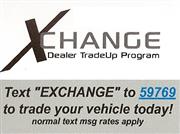 Due to the recent increase in demand for reliable vehicles, Mercedes-Benz of South Charlotte is participating in the xChange Dealer TradeUp Program. Your positive experience is our only goal.
Driving Directions
Sales Dept. Hours
Mon-Thurs: 9:00 am - 8:00 pm
Fri: 9:00 am - 7:00 pm
Sat: 9:00 am - 6:00 pm
Sun: Closed
Service Dept. Hours
Mon-Fri: 7:00 am - 7:00 pm
Sat: 8:00 am - 4:00 pm
Sun: Closed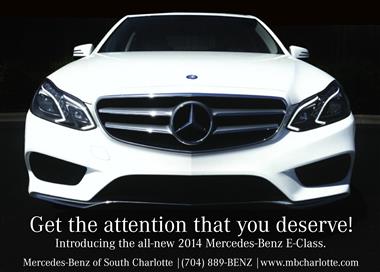 The all-new 2014 Mercedes-Benz E-Class
A car that looks at the road the same way a human does: impossible? Not for us. The reimagined 2014 E-Class scans the road just as we do, noticing the little details that suggest what might happen next, instead of just reacting. It may be hard to imagine the technology, but why you'd want it certainly isn't.
smart be nimble. smart be quick.
Discover how smart owners Allin and Debbie fit their big dogs in their smart car. To Allin's surprise, the small car's interior was spacious enough to comfortably fit two Airedale Terriers. Watch their story to learn more about the convenience of a smart car.
The Cradle of the Mercedes-Benz Sprinter
No matter if transport companies, suppliers or craftsmen: they all need their vans to fulfill their daily work.In 1962 the Mercedes-Benz plant in Duesseldorf has built the first van with the star. With an extent of 1,100 football fields and about 6,600 employees the plant is Daimler's biggest van production facility. The basis of the production is the Sprinter, Europe's number 1 van of 3.5-5 tons vehicles. In Duesseldorf nearly 700 Sprinters are produced per day.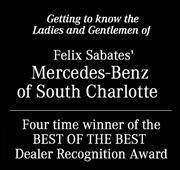 We would like to introduce you to Ronald Fields, the Shop Foreman at Mercedes-Benz of South Charlotte and this month's featured Best of the Best team member! Learn more about the Ladies and Gentlemen of Mercedes-Benz of South Charlotte and why we are committed to transforming the automotive industry by marrying the mystique of the Mercedes-Benz brand with personalized and magical experiences for all our customers.
According to your point of view, cleaning the car is either a chore or a pleasure, but most people agree that they love to see their vehicle shiny and clean. Car detailing experts would recommend that your car is cleaned weekly, but your busy...
A long car ride can be the start of a great vacation, away day or family gathering. After a few hours in such a confined space, though, it's unsurprising that tempers can fray and muscles can start to ache. One of the most important ingredients...
Hamburgers aren't just America's favorite food; they are practically America's favorite pastime. We like them grilled, griddled, baked, and fried, and we like them served with an assortment of toppings, sauces, and cheeses. If you are looking for...